Call Us Now
Get the Best CPR Class in St. Louis Today!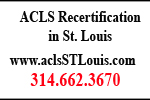 Advanced Cardiac Life Support Recertification Classes in St. Charles, MO
If you are a doctor, nurse, paramedic, or other healthcare provider who must be certified as an AHA ACLS provider it can be easy to forget when your current ACLS certification expires. It can also be a challenge to find a class that fits your schedule.
St.Louis ACLS Recertification Center now is offering two options for healthcare providers who need ACLS classes in St.Charles.
The first option is to select a date from are already scheduled ACLS recertification classes that are held conveniently close to St.Charles. Most of our ACLS recertification classes for St.Charles healthcare providers are on
Fridays and weekends. The ACLS recertification class size is limited to a small number so that our American Heart Association instructors can tailor teaching and focus to the individual healthcare providers skills and needs. This makes
for a fun, relaxed, and hassle free learning environment. If your expiration date is approaching for either ACLS recertification or BLS recertification click here for our ACLS class schedules and more details.
Our second option, and most popular, offers premium flexibility for ACLS recertification in St.Charles, Missouri. St.Louis ACLS Recertification Center's AHA instructors come to your home or office. Simply call our office with the dates and times that work with your schedule to get ACLS recertified or both ACLS and BLS recertified. Our AHA instructors then come to either your office or home, bring all the necessary equipment, the new 2010 ACLS guidelines student manual, and your new 2 year AHA ACLS provider recertification card for you to receive on-site upon successful completion of the ACLS recertification class.
In additon to one-on-one ACLS recertification classes in St.Charles in your home or at your office, we do groups! It makes getting ACLS recertified fun. If you work with other nurses, physicians, paramedics, etc that need to take an ACLS class, invite them to join. The more people in each ACLS recertification class also lowers the price per person.
For more details and instructions for at-home in-office registration:
Go to ACLS St. Charles or email info@aclsstlouis.com or call 314.662.3670.
_
Call Us Now
Get the Best CPR Class in St. Louis Today!