Call Us Now
Get the Best CPR Class in St. Louis Today!
Register Here for a Basic Life Support CPR Class in Nashville
If you need a Basic Life Support Class (BLS) or Advanced Cardiac Life Support (ACLS) class in Nashville that is American Heart Association (AHA) certified, hands-on, and stress-free then call CPR Nashville at 615.638.0005 or visit their website at www.acls-bls-nashville.com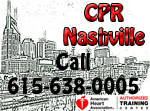 VIDEO: Listen carefully as the answers to the American Heart Association (AHA) Basic Life Support (BLS) CPR provider's card exam are discussed in detail. BLS classes are for Nashville healthcare providers such as nurses, doctors, dentists, paramedics, etc.
Click here for more videos on BLS classes in Nashville