Call Us Now
Get the Best CPR Class in St. Louis Today!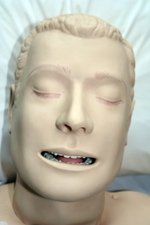 Would you know what to do if you found someone unresponsive? What if you are helping a patient stretch before their physical therapy session and they lose consciousness? What if you are explaining a new medication to a patient at the pharmacy inside Walgreens and they grab their chest and fall to the floor? Would you know what steps to take next in order to help any of the people in these scenarios?
 The truth is you have the ability to drastically help improve the chances of survival for all of the people in these scenarios. The American Heart Association recently released the updated 2010 guidelines for Basic Life Support ( BLS ) and Advanced Cardiovascular Life Support ( ACLS ). The new BLS guidelines have simple steps that anyone can learn to improve the chances for recovery in someone who experiences either sudden cardiac arrest or respiratory arrest. Knowing and being able to put the BLS algorithm into play is crucial in an emergency situation.
 St. Louis ACLS Recertification Center provides BLS renewal classes in St. Louis, Missouri that offer students a fun and convenient way to get recertified. If you work in healthcare or a profession closely related to healthcare you should be able to perform basic life support and high-quality CPR. Our classes allow you to renew your skills with hands-on practice. Our students engage in acting and practicing realistic situations that could happen at their job. Knowing what to do if a patient becomes unresponsive while having a tooth removed or while purchasing their medication is important. Practicing on our life support mannequins and with our AED will mature your skills and build the confidence you need. If you don't have hours to spend trying to get your BLS certification online then our BLS classes are for you.
 Our instructors are AHA certified and our class is designed with the new 2010 AHA BLS guidelines for healthcare providers. We also offer ACLS classes in St. Louis, Missouri for those who need advanced cardiovascular life support recertification. You will learn the 2010 updates, take your written and skills test, and receive your AHA BLS provider card that day upon successful completion of the class. To register for one of our summer special classes visit https://aclsstlouis.com/ call our office today at 314.662.3670. If our dates and class schedule do not work with your schedule we can arrange private 1-on-1 ACLS/BLS combo sessions and group ACLS/BLS combo sessions – We come to you! So don't wait for your certification to expire. Sign up today and take advantage of a fun learning experience.