Call Us Now
Get the Best CPR Class in St. Louis Today!
Register Here for an


ACLS Class in Greenville, SC
__________________________
Are you trying to prepare for your American Heart Association ACLS class? Are you feeling overwhelmed and stressed about the material and passing the mega code? If so then you are not alone. You are experiencing the same worries that healthcare professionals everywhere have if they have only taken an ACLS class once or twice in their career. The good news is if you are in Upstate South Carolina or North Carolina you have the opportunity to succeed in a stress free ACLS class with CPR Greenville!




The instructors for CPR Greenville want each and every student that is taking ACLS for the first time or just renewing their ACLS certification to have a meaningful and positive experience. After all if a student is so stressed over passing the mega code how helpful are they going to be in the hospital or field when a real ACLS protocol is in progress? CPR Greenville provides all ACLS students with detailed information on how to review before coming to the refresher course. If the student has not had ACLS in a while or does not use ACLS is their area of practice but is required to have it CPR Greenville provides students with the option to add a book on at the time of registration. The ACLS manual is then mailed to the student's house prior to the scheduled class.
Learning ACLS should not invoke negative feelings and apprehension in students, however the ACLS instructors at CPR Greenville see it all the time. If you are a healthcare professional who is ready for a hands on and stress free approach to slowing things down and having a fun experience with ACLS then CPR Greenville is the training site you are looking for. We will even travel to you for an office group ACLS class in Ashville, Simpsonville, Spartanburg, Pelham, Travelers Rest, Highland, Duncan, Mauldin, or any of the other towns near Ashville, NC or Greenville, SC.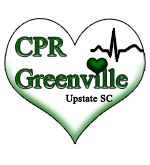 Renew your ACLS Now.